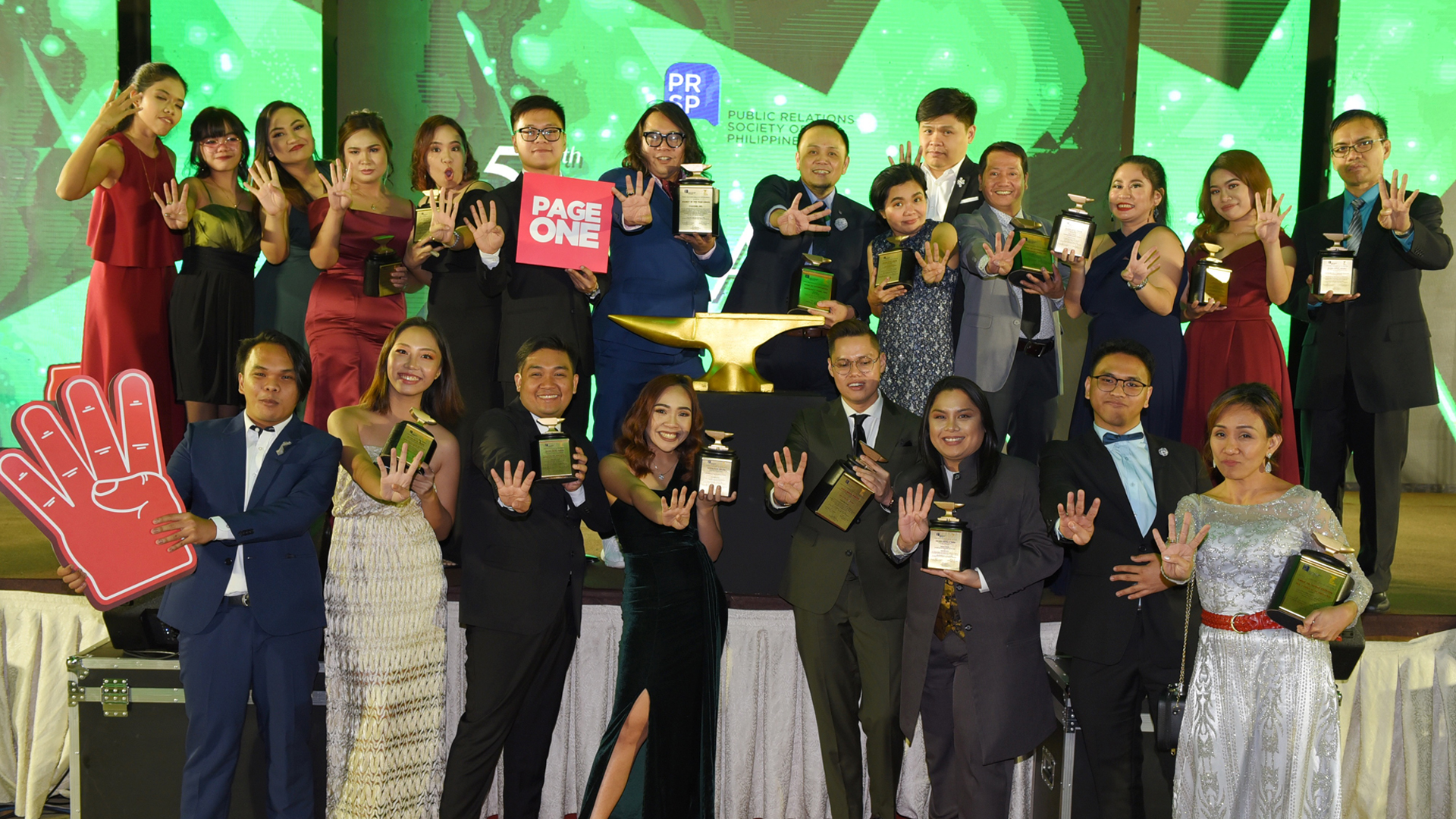 MANILA, PHILIPPINES – The PAGEONE Group has made history as it won the coveted Agency of The Year (AOY) plum for the fourth straight year at the 55th Anvil Awards of the Public Relations Society of the Philippines (PRSP).
At the same time, one of its clients won the very prestigious Grand Anvil Award while another brought home the coveted Company of the Year Award. This is yet another grand slam year for the very young agency which has consistently bested other PR and communication agencies for four years now for winning the most number of awards.
The Anvil Awards is the most prestigious award-giving body in public relations and communications, widely considered the "Oscars" of the PR industry in the Philippines. This year's Gabi ng Parangal was held at the Manila Hotel in the capital city of Manila on February 28.
PAGEONE and its clients clinched a total of 55 trophies, making it the winningest agency and thus earning the prestigious AOY title. Another first for PAGEONE is catapulting one of its clients, leading mobile wallet firm GCash, into the coveted spot of Company of the Year with 21 Gold and Silver Anvil Awards—the winningest brand among more than 500 entries this year.
The agency also won the Grand Anvil award for its client Energy Development Corporation (EDC) and its Baslay coffee project—a successful stakeholder engagement program that transforms former kaingin farmers into coffee growers and entrepreneurs.
Since its founding in 2016, PAGEONE has already won four Grand Anvil Awards, three Platinum Anvil Awards and close to 200 metals in other marketing communications award-giving bodies in the Philippines, Singapore,  Malaysia, Japan, New Zealand and Canada.
"This 'four-peat' achievement is truly extraordinary and a privilege to behold. It encourages us and, at the same time, challenges us even more to come up with innovative and effective communications solutions for our valued clients and potential partners," stated PAGEONE President Vonj Tingson. "We also celebrate this year's successful Anvil Awards as an affirmation that the PR and communications industry in the country is thriving and evolving along with the rest of the global community."
The PAGEONE Group, comprised of PR, digital and content, design and publications, and integrated marketing communications agencies,  offers a suite of solutions to clients in the Philippines and in Southeast Asia. It is behind some of the most popular online platforms today such as PageOne.ph, Woman.ph, Journey.ph, MnlMag.com Politico.ph, Motoring.ph ThePhilippinePost.com, TheLuzonDaily.com, The VisayasJournal.com, and TheMindanaoLife.com. The Group is owned by Alibata Pacific Holdings Inc.
Source: www.adobomagazine.com